by Charlotte Bronte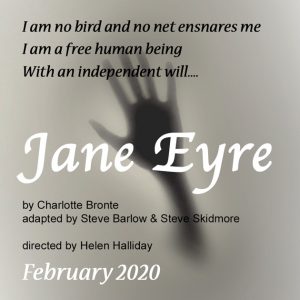 The story: The play is set somewhere in the north of England, in the early nineteenth century. It tells of Jane's childhood at Gateshead Hall, where she is abused by her aunt and cousins then banished to Lowood School, where she finds friends and role models. As an adult she finds employment as governess at Thornfield Hall, where she falls in love with her mysterious employer, Rochester, a man haunted by his difficult past. She has to escape and finds her way to Moor House, where she runs the village school and is proposed to by her clergyman cousin, St. John Rivers. But finally she is reunited with, and gets married to, her beloved Rochester.
Characters – more  help needed: We are very excited that we have assembled a great cast for our play. BUT we are still looking for some extra children to play the pupils at Lowood School in Act 1. We are expecting this to be an all girls school – but we are happy for boys to be cast if they are prepared to wear dresses.  These would not be speaking parts – but about helping create the school room atmosphere.
Auditions for pupils: Please come along to Mayfield Memorial Hall at 7pm Monday 4 November if you are interested.
View a copy of the cast list here
You can download the script here:
Performances: Thursday 20th to Saturday 22nd February 2020 (matinee and evening on Saturday)
Venue: Mayfield School Concert Hall