by Charlotte Bronte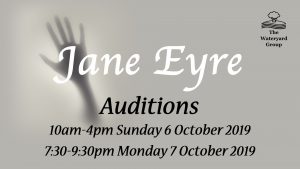 The story: The play is set somewhere in the north of England, in the early nineteenth century. It tells of Jane's childhood at Gateshead Hall, where she is abused by her aunt and cousins then banished to Lowood School, where she finds friends and role models. As an adult she finds employment as governess at Thornfield Hall, where she falls in love with her mysterious employer, Rochester, a man haunted by his difficult past. She has to escape and finds her way to Moor House, where she runs the village school and is proposed to by her clergyman cousin, St. John Rivers. But finally she is reunited with, and gets married to, her beloved Rochester.
Introductory workshop: 2:30-4:30pm Sunday 22nd September 2019 in Memorial Hall, Mayfield.
If you want to act come along and take part; but if you want to help behind the scenes then just pop at 4:15pm to find out more.
Auditions: 10am-4pm Sunday 6th and 7:30-9:30pm Monday 7th October 2019 in Memorial Hall, Mayfield
Click to download details of Jane Eyre audition pieces
Either download a copy of the play script:
Or order your own copy of the script from World of Books (approx £4.49)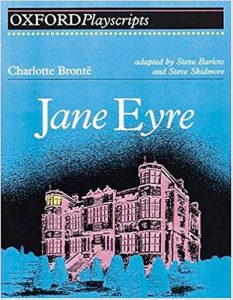 Rehearsals: 7:30-10pm Monday evenings and 8-10pm Wednesday evenings plus Sundays in February 2020. Rehearsals will be held in the Memorial Hall, Mayfield from Monday 21 October 2019 to Wednesday 18 December; then from Monday 6 January to Wednesday 12 February  2020. Technical and Dress rehearsals from Monday 17th to Wednesday 19th February 2020. You will not be needed at all rehearsals – check out our rehearsal schedule to find out when you are needed.
Performances: Thursday 20th to Saturday 22nd February 2020 (matinee and evening on Saturday)
Venue: Mayfield School Concert Hall