by Charlotte Bronte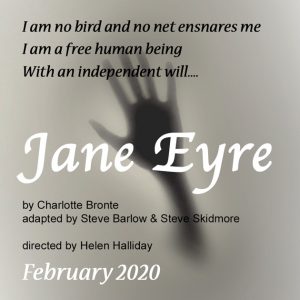 The story: The play is set somewhere in the north of England, in the early nineteenth century. It tells of Jane's childhood at Gateshead Hall, where she is abused by her aunt and cousins then banished to Lowood School, where she finds friends and role models. As an adult she finds employment as governess at Thornfield Hall, where she falls in love with her mysterious employer, Rochester, a man haunted by his difficult past. She has to escape and finds her way to Moor House, where she runs the village school and is proposed to by her clergyman cousin, St. John Rivers. But finally she is reunited with, and gets married to, her beloved Rochester.
Performances: will be held in Mayfield School Concert Hall
The cast are looking forward to presenting Jane Eyre at:
7:30pm on Thursday 20th February 2020
7.30pm on Friday 21st February 2020
2:30pm and 7:30pm on Saturday 22 February 2020
Doors and bar open from 30min before each performance.
Tickets: Tickets are now on sale here
OR in person from:
Burnetts, High Street, Mayfield
Tickets are priced at £10, £3 for Unwaged/under 16 and £22 for a family ticket (2 adults and 3 children).
For the cast
View a copy of the cast list here
You can download the script here: