A group of really enthusiastic and talented young people had a great time developing their acting techniques for both stage and TV with professional actors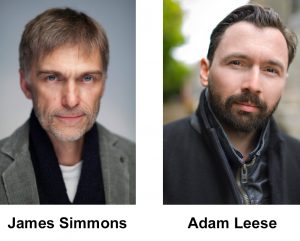 The group met in the Mayfield Scout Hut all day from Monday 26th to Friday 30th July.
The learned some different acting techniques and explored how a script is adapted for film and TV. They made this short video "Daisy Pulls it Off"
Feedback from parents
"I just wanted to say a huge 'Thank you' to everyone for a fabulous week. My daughter has thoroughly enjoyed herself and has made some great friends along the way.  Special thanks also to Adam and James who have given her some excellent techniques and tips which I am sure will be used in the future, and for their time this week."
"…a huge thank you for running the Get serious about Acting course in the summer. Sophie really enjoyed it and it was lovely for her to do something local. At the end of the summer, she did a course at the National Youth Theatre which she loved too, but was nowhere near so handy!"
Our tutors
More about James Simmons
James trained at LAMDA and has 30 years of experience as an actor and director. He has worked with the Royal Shakespeare Company, the Royal National Theatre, at Chichester and has appeared many times in the West End.  James was in The Woman in Black and completed over 1000 performances as Scar, in Disney's The Lion King and was nominated Best Actor in the MTA Awards for his performance of Elyot in Private Lives. He has made countless TV appearances including Trial and Retribution and Eastenders and appeared in a number of movies including Les Miserables, Henry V and The Whistleblower and Blue Ice with Michael Caine.
James has also been a director, taught LAMDA and led workshops, all over the world and is an acting tutor at the Royal Academy of Music. He recently returned from China where he was Associate Director of 'The Nine Coloured Deer', a new musical for the Peoples Theatre of Wuhan.
More about Adam Leese
Adam landed his first role in Victoria Wood's BBC sitcom 'Dinnerladies' whilst in his last term at Arts Ed Drama School. Twenty two years on and he has now accumulated a respectable CV, having worked on films such as 'Bridget Jones' Baby', 'Attack The Block', 'King of Thieves' with Michael Caine and 'The Kid Who Would be King,' where he's reunited with Director Joe Cornish. Adam also has over 50 credits on the small screen and has appeared in shows such as 'The I.T Crowd', 'Broadchurch', 'Humans', 'Harlots' and several appearances in 'Eastenders'.
Adam is Currently the Head of Acting at Reynolds Performing Arts in Dartford and Head Tutor for the National Youth Film Academy